Enjoy everything you love in the Biergarten every weekend – no cover charge! Open Friday, Saturday … Continue Reading…

Join us for lunch, dinner or just a beer at the bar Wednesday through Sunday beginning at 12 noon. … Continue Reading…

Plattduetsche Park Catering offers seven beautiful, recently renovated catering rooms for any kind … Continue Reading…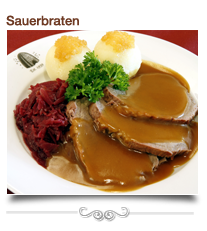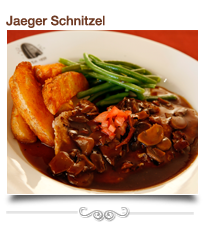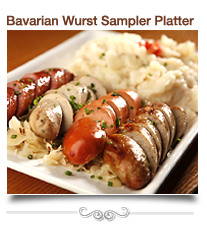 Located at 1132 Hempstead Turnpike in Franklin Square, the Plattduetsche Park Restaurant has been serving up traditional German specialties and continental cuisine since 1939. The restaurant is open for lunch and dinner Wednesday through Sunday, beginning at 12 noon. More than two acres in size, Long Island's most authentic German Biergarten / Beer Garden is located behind the restaurant and features specialties like bratwurst, leberkäse and giant soft pretzels, the best German beer on tap and live music.

In addition, the Plattduetsche offers catering facilities for groups of 10 to 700, off-site catering packages, a late-night menu, festivals and theme nights throughout the year. There are more than two dozen German clubs that meet here regularly to celebrate German-American heritage and uphold long-held traditions.
Aug 23, 2019
What's better than a beer at the Plattduetsche? A beer with bacon specialties! Join us for a celebration of everything bacon – entrees, drinks and desserts too. Menu served starting at 5:00 p.m. $5 cover charge between 5:00 p.m. and when the band finishes playing. Receive a cover charge payback coupon that allows you to […]

Aug 23, 2019
Bon Journey returns to play live in the Biergarten tonight. Authentic German cuisine and beer on tap available for purchase, $5 cover charge between 5:00 p.m. and when the band finishes playing. Receive a cover charge payback coupon that allows you to take $5 off your meal in the main dining room this coming Wednesday […]

Aug 24, 2019
What's better than a beer at the Plattduetsche? A beer with bacon specialties! Join us for a celebration of everything bacon – entrees, drinks and desserts too. Menu served starting at 4:00 p.m. $5 cover charge between 5:00 p.m. and when the band finishes playing. Receive a cover charge payback coupon that allows you to take […]

Aug 24, 2019
Wonderous Stories returns to play live in the Biergarten tonight. Authentic German cuisine and beer on tap available for purchase, $5 cover charge between 5:00 p.m. and when the band finishes playing. Receive a cover charge payback coupon that allows you to take $5 off your meal in the main dining room this coming Wednesday […]

Aug 25, 2019
Join us for Sunday brunch in the Beer Hall the last Sunday of every month.  Available between 11 am and 1 pm, the price is $22.95 (plus tax & gratuity) per person, $11.95 for kids 12 and under.  The price includes coffee, tea, and orange or cranberry juice.  View the menu for complete details.  The regular […]