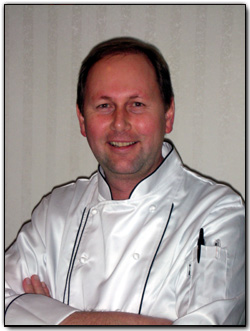 Classically trained in his homeland of Austria, Executive Chef Herbert Aigner brings more than twenty years of experience to the kitchens of the Plattduetsche Park Restaurant, Catering & Biergarten. Chef Herbert began his traditional apprenticeship when he was just 16 years old at the Sporthotel Filzmooser Hof in Filzmoos, Austria. Since then, his culinary journey has brought him to several countries and even the high seas.
For the management at the Plattduetsche, Chef Herbert's arrival was like welcoming back an old friend since he had a very successful run as executive chef here in the 1990s. Prior to his current tenure, Chef Herbert prepared food in many different settings, from a restaurant in Germany to a cruise ship and the corporate dining rooms of a global investment bank. A highlight of his career was working with celebrity chefs such as Lidia Bastianich, TV star, cookbook author and co-owner of Felidia and Becco in New York City, and the late Jamie Shannon, who was head chef at Commander's Palace in New Orleans at the time, on the five-star luxury Royal Viking Cruise Line.
Chef Herbert has also been executive sous chef at the ITT Sheraton Hotel and Towers in Gothenburg Sweden, a 340-room, four-star property with three restaurants and served as executive sous chef at the former Niedersteins Restaurant and Catering in Middle Village. He was part of the team responsible for the corporate dining rooms at the UBS Investment Bank Corporate Center in Stamford, CT with a population of 4,000 and prior to his current tenure at the Plattduetsche was chef at Seville Restaurant in Douglaston.
All of these varied experiences combine to give Chef Herbert the necessary skill and focus to both prepare foods and oversee the kitchen for our restaurant, Biergarten and catered events – frequently all at once. He has an excellent staff assisting him to ensure that everything runs like clockwork.
Aside from cooking, Chef Herbert loves to eat good food and enjoys traveling. Evidence of all these passions can be found in the food he creates – both the traditional German specialties and the continental dishes we are famous for as well as his daily specials. His philosophy is to always prepare and serve food of the highest quality for every guest at the Plattduetsche Park Restaurant, Catering & Biergarten.